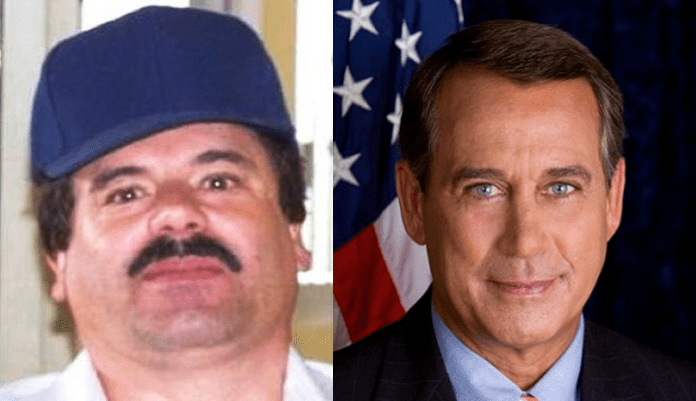 Our Joaquín Archivaldo Guzmán Loera biography is now live.
Joaquín Guzmán is better known as El Chapo — that is, "shorty." He's either 5'6″ or 5'8″ tall (reports vary) but that hasn't stopped him from building a drug-running cartel so colossal that some say it's responsible for "half of all the illegal drugs smuggled into the United States."
That's how you get to be worth over $1 billion and listed at #67 on Forbes' 2013 list of the world's most powerful people — one slot behind Speaker of the House John Boehner and one slot ahead of Jill Abramson, executive editor of The New York Times. Guzmán's affiliation is listed simply as "Sinaloa Cartel."
Joaquín Guzmán was captured by Mexican marines in Mazatlan two weeks ago, so he's out of circulation… for the moment. He already escaped from prison once, in 2001, in a laundry cart, in a caper that is alleged to have been enabled by bribed guards.
See our full Joaquín Guzmán biography »