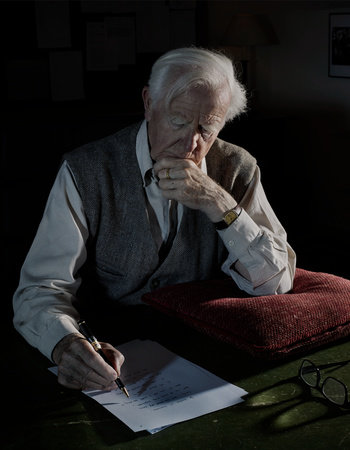 Facts about John
Le Carré
Best known as:
The author of The Spy Who Came In From the Cold
---
---
John Le Carré Biography
Name at birth:
David John Moore Cornwell
John Le Carré was the nom de plume of David Cornwell, an English author of literary spy novels with labyrinthine plots and an air of disillusionment. A master of the Cold War espionage story, he was one of the most successful spy novelists of all time.
While in the British Foreign Service in the early '60s, Cornwell began writing novels. He remained in the service as he wrote his first three books, but retired to write full time after the international success of his gripping and dour Cold War novel, The Spy Who Came In From The Cold (1963).
Le Carré turned out best-selling novel after novel over the next 50 years; his steady themes of alienation and postmodern colonialism earned comparisons to another writer of spy novels, Graham Greene. His spies "lacked the glamour of a James Bond," the BBC noted, but were fallible humans involved in a business that was by turns mundane and life-threatening.
Le Carré's trilogy of Tinker Tailor Soldier Spy (1974), The Honourable Schoolboy (1977) and Smiley's People (1980) brought to the fore his most famous creation, the inscrutable spymaster George Smiley. Alec Guinness played Smiley in two BBC miniseries, Tinker Tailor Soldier Spy in 1979 and Smiley's People in 1982.
Other films made of John Le Carré's novels include The Little Drummer Girl (1984, starring Diane Keaton), The Russia House (1990, starring Sean Connery), The Tailor of Panama (2001, starring Pierce Brosnan), The Constant Gardener (2005, starring Ralph Fiennes), and the miniseries The Night Manager (2016, starring Tom Hiddleston).
John Le Carré published a memoir, The Pigeon Tunnel, in 2016. His last novel, Agent Running in the Field, was published in 2019, a year before his death.
Extra credit
John Le Carré was married twice: to Alison Sharp (known as Ann) from 1954 until their divorce in 1971, and to book editor Valérie Eustace from 1972 until his death in 2020. With Sharp he had three sons: Simon, Stephen and Timothy. With Eustace he had one son, Nicholas (b. 1972), an author who writes under the name of Nick Harkaway.
​
---
Related Biographies
Something in Common with John Le Carré
4 Good Links
From 2020: the BBC recaps his life and career

Wikipedia lists all his books, short stories and screenplays

Charming and amusing 2002 talk about the movies and Alec Guiness

Profile (and more) from his own site, still going after his death
Share this: