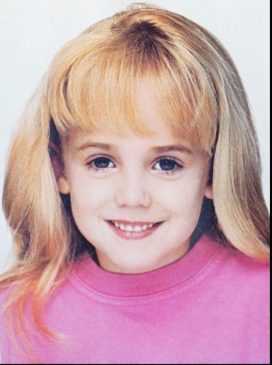 Facts about JonBenet
Ramsey
Best known as:
The 6-year-old beauty contestant killed in Colorado in 1996
---
JonBenet Ramsey Biography
JonBenet Ramsey is the six-year-old beauty pageant contestant who was found murdered in her Boulder, Colorado home on December 26, 1996.
The JonBenet Ramsey case became a national sensation due to its many odd details, including her violent cause of death (she had a fractured skull and had also been strangled), a bizarre ransom note left in the home, and alleged police mishandling of the crime scene. Ramsey had been a frequent participant in junior beauty pageants, and glossy photos of her dressed and styled for competition appeared on TV and in newspapers for months.
The case remained unsolved even as police investigated JonBenet's parents, John and Patsy Ramsey, and many other suspects. In August of 2006, an itinerant teacher named John Karr was arrested in Thailand on suspicion of having killed Ramsey. Karr was flown to America, but subsequent DNA tests showed that he was not the killer, and Karr was released.
In July of 2008 the Boulder County District Attorney's office formally removed the Ramsey family from the list of suspects, saying new DNA tests exonerated them. News reports in 2013 said that a grand jury had actually voted to indict both John and Patsy Ramsey in 1999, but that the district attorney's office declined to prosecute. Patsy Ramsey died of cancer on June 24, 2006, and the murder of JonBenet Ramsey remains officially unsolved.
Extra credit
John and Patsy Ramsey published a book about the murder, The Death of Innocence, in 2000… They also had a son, Burke Ramsey, born in 1987… John Ramsey ran unsuccessfully for a state House seat in Michigan in 2004… Patsy Ramsey was Miss West Virginia of 1977.
---
Related Biography
Something in Common with JonBenet Ramsey
4 Good Links
For case fanatics, evidence and details collected in one exhaustive site

2016 analysis from The Guardian

2023 report from The Sun on another alleged suspect, with all the gory details

The city's simple statement on the 25th anniversary of her death
Share this: