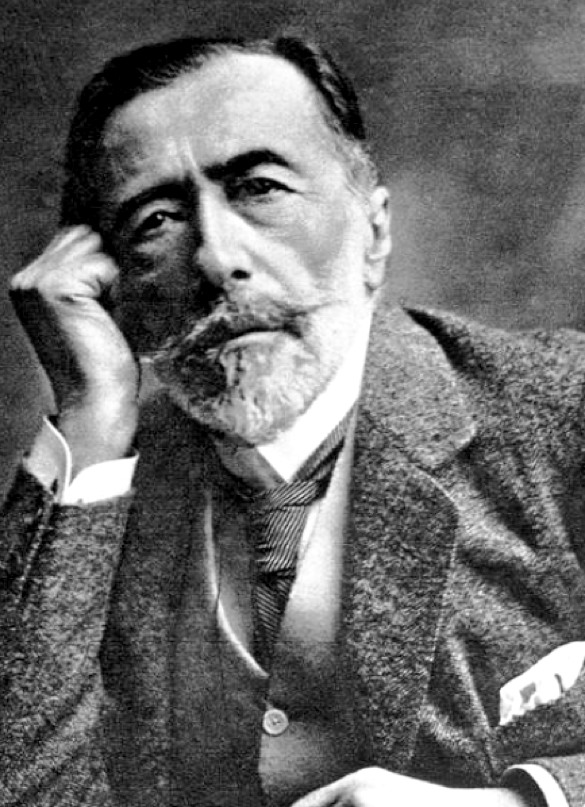 Facts about Joseph
Conrad
Best known as:
Author of Heart of Darkness
---
---
Joseph Conrad Biography
Name at birth:
Teodor Jozef Konrad Nalecz Korzeniowski
Joseph Conrad was a novelist and story writer whose most famous works are Lord Jim and Heart of Darkness.
Of Polish descent, he was born in Russian-controlled Ukraine, orphaned by the age of 11, educated in Switzerland and a member of the French merchant marine by the age of 17.
After a few adventurous years with the French, Conrad joined the British merchant navy, where he learned English, anglicized his name and rose in the ranks to command his own ship. A naturalized British citizen, he settled in England and turned to writing full-time after 1894.
Most of his fiction is informed by his two decades on international seas and is characterized by exotic locales and themes of loneliness, moral corruption and the effects of European imperialism.
He published several works, including Almayer's Folly (1895), Nostromo (1904) and The Secret Agent (1907), before the New York Herald's 1912 serialization of Chance made him famous.
His most highly-regarded works include the story "The Secret Sharer" and two short novels narrated by the character Captain Marlow, Lord Jim (1900) and Heart of Darkness (1902, famous these days as the inspiration for Francis Ford Coppola's 1979 film Apocalypse Now).
Extra credit
Conrad collaborated on The Inheritors (1901) and Romance (1903) with Ford Madox Ford, author of The Good Soldier.
---
Related Biography
Something in Common with Joseph Conrad
A Good Link
Many scholarly resources from a U.K. group
Share this: