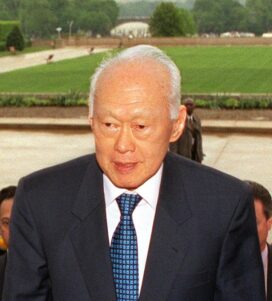 Best known as:
The first prime minister of modern Singapore
---
---
Lee Kuan Yew Biography
Lee Kuan Yew led Singapore to independence and served as its first prime minister, being regularly re-elected from 1959 until he stepped down in 1990. Lee Kuan Yew was born in Singapore and survived the Japanese Army's occupation of the island during World War II. After the war he went to England and earned a law degree at Cambridge University in 1949. In 1954 he joined the new People's Action Party, rising swiftly to prime minister after the PAP won in a landslide in elections of 1959. Under his firm guidance, Singapore gained independence from the United Kingdom and became a financial and industrial powerhouse, despite a lack of abundant natural resources. Lee ruled with ultimate authority, and his zeal for law and order was legendary. (The Guardian said in its 2015 obituary that "Lee was unable to change his self-image as a political streetfighter, the gang boss who forever had to prove his ruthlessness.") After three decades as prime minister, he left office in 1990 and was succeeded as prime minister by Goh Chok Tong. Lee Kuan Yew remained in the cabinet as senior minister until 2011, when he stepped down at age 87. He did, however, retain his seat in Parliament until his death a few years later at age 91.
Extra credit
Lee Kuan Yew married Kwa Geok Choo in London in 1947. They had three children: sons Lee Hsien Loong (born 1952) and Lee Hsien Yang (b. 1957) and daughter Lee Wei Ling (b. 1955). Lee Hsien Loong became prime minister in 2004, succeeding Goh Chok Tong. Kwa Geok Choo died in October 2010.
---
Related Biography
Something in Common with Lee Kuan Yew
2 Good Links
New York Times obituary

2000 BBC report on Lee's role, past and present
Share this: