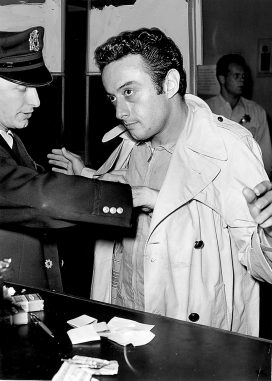 Best known as:
Edgy, arrest-prone 1960's comedian
---
Lenny Bruce Biography
Name at birth:
Leonard Alfred Schneider
An American counterculture icon from the 1960s, Lenny Bruce's obscenity-laced social satire paved the way for modern stand-up comedians ranging from George Carlin and Richard Pryor to Robin Williams and Chris Rock.
Lenny Bruce served in the navy during World War II (1942-45) and began performing stand-up comedy in 1946. As he gained popularity in New York night clubs, his brand of comedy shifted from impersonations to free-wheeling monologues satirizing religion and politics. He released several comedy albums and appeared occasionally on TV, especially as a guest of Steve Allen and Hugh Hefner.
In 1961, Lenny Bruce was arrested after a performance in San Francisco and charged with obscenity. He was acquitted, but for the next few years he was frequently in trouble with the law for using raw language on stage — a significant no-no back then. In 1964 he was convicted of obscenity in New York and jailed for a few months. (He was pardoned posthumously by New York Governor George Pataki in 2003.)
As his legal troubles mounted, Lenny Bruce performed less and less and used drugs more and more. He died of a drug overdose (probably either heroin or morphine) at the age of 40. His albums included The Sick Humor of Lenny Bruce (1958), American (1960) and Lenny Bruce: The Carnegie Hall Concert (1961).
---
Related Biographies
Something in Common with Lenny Bruce
3 Good Links
Background and bits from his daughter

From 2003: The NY Times reports on his posthumous pardon for cursing

Forward.com has a full blast of Bruce on video
Share this: