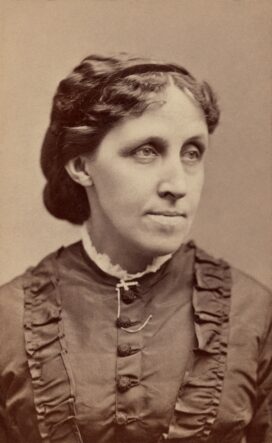 Facts about Louisa
Alcott
Best known as:
The author of Little Women
---
---
Louisa May Alcott Biography
Louisa May Alcott wrote Little Women, a novel for young readers that's been popular since its appearance in 1868.
Born in Pennsylvania, she's most closely associated with Boston and Concord, Massachusetts, where she grew up with the likes of Ralph Waldo Emerson and Henry David Thoreau, associates of her father, Transcendentalist philosopher (Amos) Bronson Alcott.
A childhood of financial insecurity apparently made Louisa determined to be a success.
She had a literary reputation after the 1863 publication of her experiences as a Civil War nurse (Hospital Sketches), but she made money in the 1860s writing potboilers and publishing them anonymously or pseudonymously.
Her market-savvy Little Women was based on her own experiences growing up (she's associated with the character Jo) and cemented her fame and fortune.
Alcott's other works include Good Wives (1869), Little Men (1871), Rose in Bloom (1876) and Jo's Boys (1886).
---
Related Biographies
Something in Common with Louisa May Alcott
3 Good Links
Includes family biographies

A researcher thinks there are some previously unknown pseudonyms

Background and related links for book lovers
Share this: