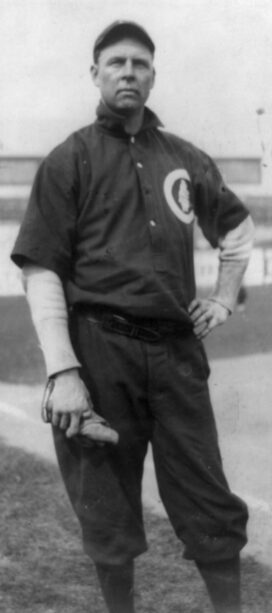 Facts about Mordecai
Brown
Best known as:
The hotshot pitcher with a mangled hand, ca. 1910
---
Mordecai "Three Finger" Brown Biography
Name at birth:
Mordecai Peter Centennial Brown
Mordecai "Three Finger" Brown lost part of his hand to a corn shredder at age 7. (Brown actually lost only one finger; two others were bent out of shape.) The misfortune turned into an advantage when, as a young man, Brown discovered that his reconfigured hand gave him an excellent grip for throwing curveballs. Brown became a dominant major league pitcher of the early 20th century, winning 239 games and compiling a remarkably low career ERA of 2.06. He played on the Chicago Cubs championship teams of 1906, 1907, 1908 and 1910 — the same Cubs teams which featured the famous Tinkers-to-Evers-to-Chance double-play combination. Mordecai Brown was elected to baseball's Hall of Fame in 1949.
Extra credit
According to the Library of Congress, "Three-Finger" Brown was also called "Miner" Brown because "before he was a ballplayer he worked in a coal mine for several years."
---
Something in Common with Mordecai "Three Finger" Brown