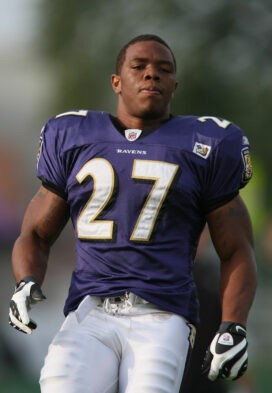 Best known as:
The NFL running back who was suspended in 2014 after hitting his wife
---
Ray Rice Biography
Name at birth:
Raymell Maurice Rice
Ray Rice is the football player who was suspended indefinitely by the NFL in 2014 after the release of video showing him hitting his fiancee in a hotel elevator. Ray Rice played tailback at Rutgers University (2005-2007), and after three successful years he left school to enter the 2008 NFL draft. The Baltimore Ravens drafted him in the second round (the 55th pick overall) and he signed a four-year contract worth nearly $4 million. Both fast and powerful, Rice became the team's lead back and in July of 2012 signed a new contract worth $35 million over five years. Seven months later, on 3 February 2013, he helped lead the Ravens to a win over the San Francisco 49ers in Super Bowl XLVII.
Despite his football successes, Rice is better known for the domestic violence charges of 2014. On 15 February 2014, Rice and his fiancee, Janay Palmer, were both arrested on charges of domestic violence after a late-night altercation at the Revel Casino in Atlantic City. A hallway video showed Rice dragging an unconscious Palmer out of a hotel elevator, and he was eventually charged with third-degree aggravated assault. The charges were later dropped after Rice agreed to undergo counseling. He and Palmer married on 28 March 2014, and the NFL suspended Rice for two games of the 2014 season. However, on 8 September 2014, the TMZ Sports website released new video from inside the elevator, showing Rice punching Palmer viciously and knocking her out. Rice was released by the Ravens the same day, and the NFL suspended him indefinitely. A public uproar ensued, both against Rice and against the NFL for its previous lenient treatment of him.
Extra credit
Ray Rice is 5'8″ tall and weighs 206 pounds, according to his 2014 bio from the Baltimore Ravens… Ray Rice wears uniform number 27… Rice and Palmer have a daughter, Rayven, born in February of 2012.
---
Something in Common with Ray Rice
4 Good Links
TMZ Sports has the damning, herky-jerky elevator video of his punch

ESPN's story from the day the video broke

The latest news about (or mentioning) Rice

Pro Football Reference has all his career stats, plus news and more
Share this: