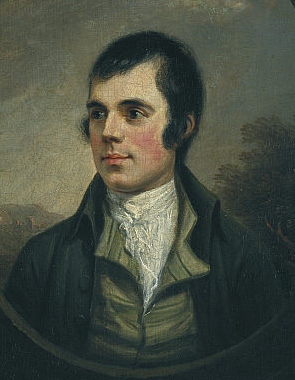 Best known as:
Scotland's most famous poet
---
---
Robert Burns Biography
Scotland's favorite historical poet, Robert Burns is the author of "Auld Lang Syne," "To A Mouse" and "Tam o' Shanter."
Raised in a poor family of farmers, Robert Burns still managed to learn literature and began writing verse when he was a teenager. His father died in 1784 and Burns tried to make a go of it as a farmer, but found more success with poetry.
To raise money to emigrate to Jamaica, he published a collection called Poems, Chiefly in the Scottish Dialect in Kilmarnock in 1786. The collection sold well and boosted his reputation among the literati, so Burns decided to stay in Scotland.
Robert Burns toured the country, published another edition in Edinburgh (1787) and joined James Johnson in publishing The Scots Musical Museum, a collection of Scottish folk songs. Over time he collected, revised and adapted hundreds of traditional songs, and his original poems carried Scotland's language and culture to the world. His life of carousing and his stick-it-to-the-man attitude further endeared "Rabbie" to his countrymen.
Even as a well-known poet and a favorite native son, Robert Burns still had to work for a living. He settled in Dumfries, where he worked as an excise agent while continuing to write. Despite his early death at the age of 37 (he had an unhealthy heart, it seems), Burns produced a large body of work, including the popular Scot anthem "Scots Wha Hae" and the poem "A Red, Red Rose."
Extra credit
Robert Burns fans around the world remember him with annual "Burns Dinners" on or near his birthday, at which the traditional meal is haggis –a sheep's heart, liver and lungs chopped with herbs and spices and cooked in the sheep's stomach.
---
Something in Common with Robert Burns
4 Good Links
Sprawling tribute that covers most things Burns

With some background and many images

Biography from The Poetry Foundation

Bio from The Scottish Poetry Library
Share this: