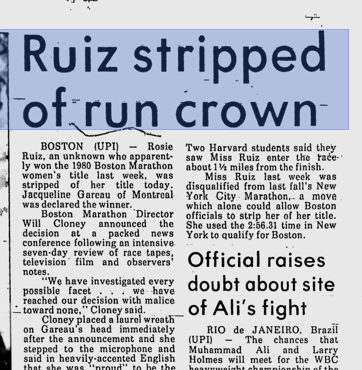 ---
Rosie Ruiz Biography
Rosie Ruiz is famous for faking her way to short-lived glory as the winner of the Boston Marathon of 1980.
In the 84th Boston Marathon, held on April 21, 1980, amateur runner Rosie Ruiz came from out of nowhere to win the women's race. Suspicions about her performance were raised the next day, after race officials found that Ruiz didn't appear in videotapes of the marathon until near the end of the course.
Ruiz insisted she had run the entire course, but the accepted theory came to be that she had hopped a subway for much of the race, ran the final mile or so, and then proudly accepted the winner's medal. A week later Ruiz was officially disqualified from the race, and the winner was proclaimed to be Canadian Jacqueline Gareau.
Extra credit
The 1980 men's race was won by legend Bill Rodgers; it was his fourth Boston Marathon victory… In a 2006 piece in the Orlando Sentinel, columnist Dave Darling reported that many people believe Ruiz never intended to win the marathon, but was simply trying to look good to her New York employers, who had sent her to the race believing her claims that she was an expert runner. According to Darling, "Most believe Ruiz meant to hop into the middle of the pack in an attempt to cross the finish line at Prudential Plaza. But she miscalculated, jumped to the front of the women's pack and ended up winning"… She was also known as Rosie M. Vivas.
---
Something in Common with Rosie Ruiz
4 Good Links
Nice photos and a recounting of her faked victory

Full recap from the website Mass Moments

The Boston Globe has a brief article on Gareau

Under the name Rosie Vivas; doesn't mention her famous hoax
Share this: