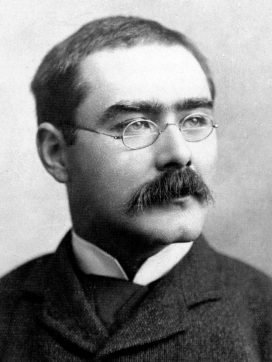 Facts about Rudyard
Kipling
Best known as:
The author of The Jungle Book
---
---
Rudyard Kipling Biography
Rudyard Kipling is the author of The Jungle Book and other British-flavored tales of the Indian subcontinent.
Rudyard Kipling was born in India to British parents, but spent much of his childhood at school in England before returning to India in his teens. Then he turned to writing: his collection Barrack-Room Ballads (1892) was full of colorful, dusty, sing-song poems told from the point of view of the common British soldier, including the popular poem "Gunga Din."
The Jungle Book (1894) was a collection of fictional stories about the wilds of India, many of them about Mowgli, a boy raised by wolves. It was followed by The Second Jungle Book in 1895 and was the basis for the popular 1967 Disney animated film.
Kipling traveled widely and wrote hundreds of essays, poems and stories, continuing to write nearly up to his death in 1936. At the time Kipling began writing, Queen Victoria still held the title of "Empress of India," and Kipling is known as a romantic imperialist: sympathetic toward the British Empire's foreign subjects and yet proud of the British role in keeping and expanding its empire.
Among his most popular poems are If ("IF you can keep your head when all about you / Are losing theirs and blaming it on you…"), Mandalay ("… An' the dawn comes up like thunder outer China 'crost the Bay!"). His 1897 book Captains Courageous was set among the fishing fleets of New England, and Kim (1901) in the Himalayas. Just So Stories (1902) was a collection of whimsical African tales, including "How the Leopard Got His Spots" and "The Elephant's Child."
Rudyard Kipling's son John was killed while fighting in World War I, and after the war Kipling published a history of John's regiment, titled The Irish Guards in the Great War (1923). Kipling was awarded the Nobel Prize for Literature in 1907.
Extra credit
The poem "Gunga Din" includes the famous final line, "You're a better man than I am, Gunga Din!" The poem was expanded into a 1939 feature film, with Cary Grant as a British soldier and Sam Jaffe as Gunga Din… Rudyard Kipling's 1899 poem The White Man's Burden was the first public use of that phrase… Rudyard Kipling's two Jungle Book volumes are often published together under the plural title The Jungle Books… Another well-travelled adventure author of Rudyard Kipling's era was Scotland's Robert Louis Stevenson.
---
Related Biographies
Something in Common with Rudyard Kipling
4 Good Links
With a biography, timeline, and commentary on many of his works

His bio from the BBC

His biography from the Nobel Prize people

2015 New Yorker book review has great detail on the author
Share this: