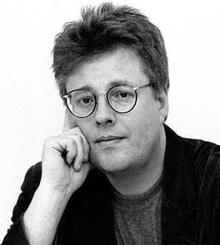 Facts about Stieg
Larsson
Best known as:
The author of The Girl With the Dragon Tattoo
---
---
Stieg Larsson Biography
Name at birth:
Karl Stig-Erland Larsson
Stieg Larsson was a Swedish journalist who became famous after his death — as the author of posthumously published novels in The Girl With the Dragon Tattoo series.
Larsson was a left-wing, rabble-rousing journalist with a keen interest in exposing  right-wing extremists in Europe.
While holding down a job as a graphic designer for the news service Tidningarnas Telegrambyra (1977-99), Larsson had a side career as an expert on neo-fascist, white supremacist movements.
He lectured, wrote articles and helped found his own political magazine, Expo, in 1995.
A furious worker, he died at the age of 50 after climbing several flights of stairs to his office.
As it turns out, Larsson had written three full-length crime novels in his spare time and had only just signed a publishing contract. The first in the series, The Man Who Hated Women, was published in Sweden in 2005 — a year after Larsson's death — under the title The Girl With the Dragon Tattoo.
It received enough notice that it was translated and published in the U.K. in 2008. That was followed by The Girl Who Played With Fire and The Girl Who Kicked the Hornets' Nest, and by 2011 the three novels, known as the Millennium Trilogy, were international bestsellers, as well as the basis for a successful film franchise starring Noomi Rapace as the story's protagonist, Lisbeth Salander.
The film franchise was then Americanized by David Fincher in 2011, with Rooney Mara as Salander.
The 2018 film, The Girl in the Spider's Web (with Claire Foy as Salander) was based on a 2016 novel by David Lagercrantz.
Extra credit
Because Stieg Larsson left no will, his estate and literary rights went to his father and brother, Erland and Joakim Larsson, rather than to his common law wife of three decades, Eva Gabrielsson. The acrimonious relationship between Larsson's family and Gabrielsson has led to uncertainty about the future of a reported fourth manuscript left unfinished by Larsson… Stieg Larsson was a lifelong fan of science fiction and used to write and publish his own fanzine.
---
Something in Common with Stieg Larsson
4 Good Links
2010 NYT feature with many details

Calls itself the official site for his books

Lots of news and background

2011 Vanity Fair piece by his longtime partner Gabrielsson
Share this: