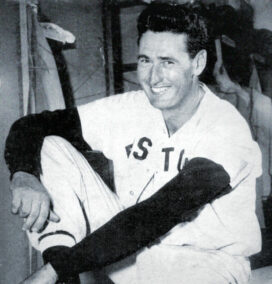 Best known as:
The last American major leaguer to hit .400
---
Ted Williams Biography
Ted Williams remains the last man to hit over .400 for a complete American major league baseball season. He finished the 1941 season with a .406 batting average, going 6-for-8 during a season-ending double-header to push himself over the .400 mark. Williams played for the Boston Red Sox from 1939-42 and from 1946-60. (During World War II he served in the U.S. Navy. His 1952 and 1953 seasons were interrupted by his service as a Marine Corps pilot; he flew 39 combat missions in Korea.) Ted Williams hit a home run in his last at-bat, at Boston's Fenway Park, and finished his career with 521 homers and 2654 hits. He was inducted into baseball's Hall of Fame in 1966. His 1969 autobiography was titled My Turn At Bat, and his 1971 book The Science of Hitting remains a popular baseball manual. Late in life he suffered from congestive heart trouble and a series of strokes, and he died at age 83 in July of 2002.
Extra credit
Ted Williams wore uniform #9… His nicknames include "The Kid," "Teddy Ballgame" and "the Splendid Splinter"… Ted Williams hit .400 in 6 games in 1952, and .407 in 37 games in 1953, but both seasons featured too few at-bats to be considered official… Williams managed the Washington Senators (later the Texas Rangers) from 1969-72… In Korea, Ted Williams flew as wing man for future astronaut John Glenn.
---
Related Biography
Something in Common with Ted Williams
4 Good Links
Sports Illustrated story from 2003 about his bizarre post-mortem adventures

From the official site of Major League Baseball

Salon's lengthy essay on Williams includes details on his feud with the press

The Williams estate's official site, with plenty of history
Share this: