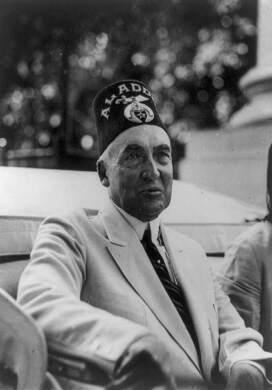 Facts about Warren
Harding
Best known as:
President of the United States, 1921-23
---
---
Warren Harding Biography
Warren Harding was president of the United States from 1921 until his sudden death in 1923. One can almost feel sorry for Harding, who consistently gets ranked as one of the worst presidents of all time. Harding published and edited the Marion Daily Star, a pro-Republican newspaper, for many years before serving as Ohio's lieutenant governor (1904-06). He was elected in 1914 to the U.S. Senate, where he became known as a handsome and affable fellow who was not necessarily the most active mind in the chamber. Nonetheless, Harding was chosen as a compromise candidate on the 10th ballot of the 1920 Republican convention. He was inaugurated in 1921 and took over the White House from two-term Democrat Woodrow Wilson. Harding's administration is chiefly remembered for the Teapot Dome scandal, a messy tale of bribery, fraud, and federal oil reserves. Harding died suddenly in San Francisco during a 1923 cross-country tour. He was succeeded by his vice president, Calvin Coolidge.
Extra credit
Harding rode an automobile to his inauguration, the first president ever to do so… He and his wife, Florence Kling Harding, had no children together; Mrs. Harding had a son, Marshall, by a previous marriage (he died in 1915 at the age of 34). Harding's mistress, Nan Britton, alleged after his death that he was the father of her daughter Elizabeth Ann, born in 1919. Harding never publicly acknowledged the child and Britton's claim is now regarded as questionable.
---
Something in Common with Warren Harding
4 Good Links
The official bio from the White House

Good basic facts, plus bio links, from the Internet Public Library

Helpful Harding links, links, links

History professor Phillip Payne outlines the scandal
Share this: