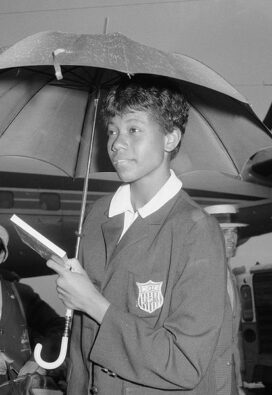 Facts about Wilma
Rudolph
Best known as:
The first American woman to win three gold medals in one Olympics
---
Wilma Rudolph Biography
Wilma Rudolph sprinted to three gold medals at the 1960 Summer Olympics in Rome, becoming the first woman from the United States to win three golds in one Olympics. Rudolph, an African-American, won the 100 meter dash and the 200 meter dash and anchored the winning 400 meter relay team. Born to a large, poor family in Tennessee, Rudolph battled polio, scarlet fever and pneumonia as a child and for a few years lost the use of one leg. By the time she was a teenager she was 5′ 11″ and an outstanding basketball player. She began sprinting with a team from Tennessee State University when she was still in high school, and earned a bronze medal as a member of a relay team in the 1956 Olympics in Melbourne before earning triple gold four years later. In 1973 she was inducted into the Black Athletes Hall of Fame, and in 1974 she was named to the National Track and Field Hall of Fame. Her 1977 autobiography was titled Wilma.
Extra credit
A 1977 TV movie about her life, Wilma, was directed by Bud Greenspan and starred actress Shirley Jo Finney as Wilma Rudolph.
---
Something in Common with Wilma Rudolph
4 Good Links
Fan page with photos and videos

Details about her life and career from the Lakewood (Ohio) Public Library

Full professional bio, courtesy of the Gale Group

ESPN column pays tribute to Rudolph
Share this: