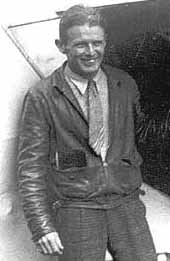 Facts about Wrong
Corrigan
Best known as:
The flier who 'accidentally' crossed the Atlantic
---
Wrong Way Corrigan Biography
Douglas "Wrong-Way" Corrigan is famous for "accidentally" flying east across the Atlantic Ocean after setting out to fly west across the United States.
Douglas Corrigan took off from Brooklyn's Floyd Bennett airfield in a tiny single-engine plane on July 17, 1938. Corrigan had filed a flight plan for California, but 29 hours later he arrived in Ireland, claiming that his compasses had failed and he had accidentally flown the wrong way.
The flight took place 11 years after Charles Lindbergh made the first solo transatlantic flight in 1927. Corrigan was an aircraft mechanic who had actually taken part in building Lindbergh's famous plane, The Spirit of St. Louis.
Although Douglas Corrigan never quite admitted it, his "mistake" was surely a ruse to circumvent aviation authorities who had turned down his request to make a trans-Atlantic flight. Still, Corrigan's stunt caught the public fancy: he was given a hero's welcome on his return to New York, and "Wrong-Way Corrigan" became a popular nickname for anyone who made a big blunder or did things backwards.
Douglas "Wrong-Way" Corrigan published his biography, That's My Story, in 1938.  He also played himself in the 1938 movie The Flying Irishman.
---
Something in Common with Wrong Way Corrigan
4 Good Links
History.net has amusing detail on his landing in Ireland

Fine recap from the U.S. Centenntial of Flight Commission

Nice friendly account of Corrigan's 'mistake'

Retelling of the legend, from the town where he settled
Share this: