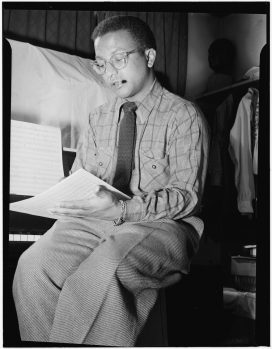 Facts about Billy
Strayhorn
Best known as:
Composer of "Take the 'A' Train"
---
---
Billy Strayhorn Biography
For three decades, Billy Strayhorn was the composing and arranging partner of jazz great Duke Ellington. Billy Strayhorn met Duke Ellington in 1939; the bandleader hired him immediately and the two worked together until Strayhorn died in 1967. Strayhorn's compositions alone or with Ellington include "Lush Life," "Chelsea Bridge," "Johnny Come Lately," "A Flower Is a Lovesome Thing" and "Satin Doll." His most famous composition, "Take the 'A' Train," was inspired by the subway directions to Ellington's home for their first meeting. Strayhorn was born in Ohio but is often associated with Pittsburgh, where he spent a larger part of his childhood.
---
Related Biographies
Something in Common with Billy Strayhorn