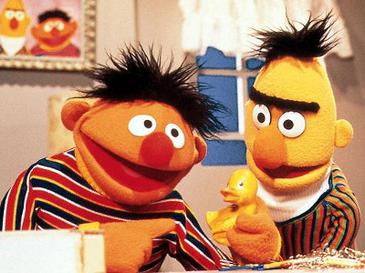 Best known as:
Comic pair from TV's Sesame Street
---
Bert and Ernie Biography
Bert and Ernie are the silly, funny roommates who star on the children's TV show Sesame Street.
Bert and Ernie first appeared on the popular show in 1969. They were part of the show's troupe of Muppets, the puppet creations of Jim Henson. (Other Muppets included Kermit the Frog, Big Bird and Oscar the Grouch.) Sesame Street became a long-running classic and Bert and Ernie continue to appear on the show as friends who live together but bicker constantly (if cheerfully).
Bert is the taller, more irritable one and Ernie is the round-faced, goofy one. For many years Ernie was voiced by Henson and Bert by Frank Oz; other performers have since taken over the roles.
Extra credit
Ernie's rendition of the song "Rubber Duckie" was released as a single in 1970 and reached the top 40 on the Billboard charts… Bert and Ernie have been the topic of various false rumors over the years. Spokespeople for the Muppets and for Children's Television Workshop (creators of Sesame Street) flatly deny the rumors that Ernie and Bert are or will become gay, or that Ernie is or will become sick with a fatal disease… Muppet spokespeople also say the characters were not named for Bert the cop and Ernie the Taxi driver in Frank Capra's 1946 film It's a Wonderful Life… However, it is true that by a printer's strange mistake, Bert did appear alongside Osama bin Laden in a Bangladesh protest poster in 2001. News photos of the poster were widely reprinted in the U.S… Frank Oz also performed the popular Miss Piggy, and voiced Yoda in the Star Wars film series.
---
Related Biographies
A Good Link
A basic introduction, from a larger Sesame Street fan page
Share this: