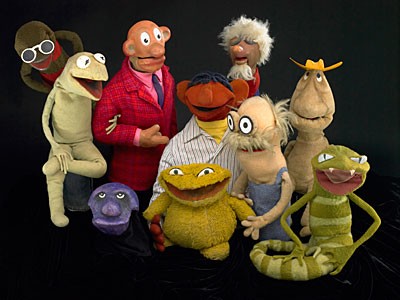 The original Kermit the Frog has "come home" to Washington, DC.
The yellowish Kermit was donated to the Smithsonian Museum on Wednesday by Jane Henson, along with nine other characters from Sam and Friends. That was the local Washington TV show created by Jane and Jim Henson in 1955 — and the start of the long career of the Muppets.
Kermit is the only original character who stuck around for the glory years. (Though the dude in the striped shirt at center looks like Ernie with a bad toupee.) Sam is the goofy humanoid in the red coat, who "never spoke but lip-synced to popular music and comedy records of the time." Other stars of Sam and Friends included Yorick ("a purple skull who was a precursor to hungry monsters
like Cookie Monster"), Mushmelon, and Pierre the French Rat.