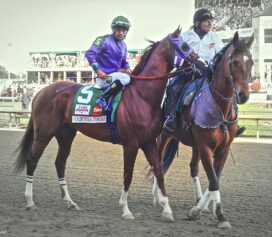 Facts about California
Chrome
California Chrome
is 12 years old
Best known as:
The horse who didn't quite win the Triple Crown in 2014
---
California Chrome Biography
California Chrome is the horse who won the first two legs of thoroughbred racing's Triple Crown in 2014. A big chestnut stallion with a white blaze and feet — "chrome" in track parlance — California Chrome has been widely celebrated for his unusual background. Not only was he born in California rather than Kentucky, he was the very first horse bred by owners Steve Coburn and Perry Martin. They bought his mother, Love the Chase, for $8000 and paid $2000 to breed her to Lucky Pulpit. After a somewhat slow start as a two-year old, California Chrome won the King Glorious Stakes at Hollywood Park in December of 2013, starting a streak of six wins that included the Santa Anita Derby on April 5, 2014. On May 3rd the horse won the Kentucky Derby by 1 3/4 lengths in a time of 2:03:66. Two weeks later, on May 17, California Chrome won the Preakness Stakes by 1 1/2 lengths in a time of 1:54:84. Victor Espinoza was the jockey for both races. That set California Chrome up for the Belmont, where he could have become the first horse since Affirmed in 1978 to win the Triple Crown. In that race, California Chrome was in the hunt at the top of the home stretch, but finished tied for fourth, well behind winner Tonalist. As it happened, the Triple Crown drought ended the next year: American Pharoah won all three races in 2015.
Extra credit
According to a 2014 profile in The Los Angeles Times, "When the men bought Not For Love, a horseman nearby remarked that only a 'dumb ass' would purchase her. Now, they run under the silks of DAP Racing, 'Dumb Ass Partners'"… The DAP Racing colors are purple and green… California Chrome became the 13th horse to have won the Kentucky Derby and Preakness, but not the Belmont, since Affirmed. They include Funny Cide (2003), Smarty Jones (2004), Big Brown (2008) and I'll Have Another (2012).
---
Something in Common with California Chrome
3 Good Links
All the stats and details for race fanatics

2014 Los Angeles Times article, with background on horse and owners

From Google News, recent stories about (or mentioning) the big hoss
Share this: