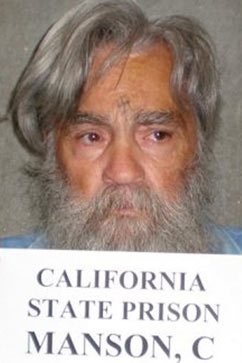 Facts about Charles
Manson
Best known as:
Cultish figure in famous 1969 killing spree
---
Charles Manson Biography
Name at birth:
Charles Milles Manson
Charles Manson was the most notorious mass murderer of the 1960s. His followers murdered seven people, including the actress Sharon Tate, in a killing spree on the nights of August 9 and 10 of 1969.
A would-be musician and charismatic petty criminal, Charles Manson found his way to San Francisco when the 1960s drug culture was at its height. He began to collect followers, and by the end of the decade he and several members of his "family" had settled on borrowed land outside of Los Angeles.
Believing he was a modern incarnation of Jesus Christ, and figuring he could benefit from a race war in America, Manson convinced several followers to go on their infamous murder spree in 1969. The most prominent victim, Sharon Tate, the wife of film director Roman Polanski, was eight months pregnant at the time. Another victim was Abigail Folger, heiress to the Folger's coffee fortune.
The subsequent murder trial lasted seven months (at that time the longest and most expensive trial in U.S. history), and resulted in guilty verdicts and death sentences for Manson and his followers. (Manson was convicted of planning and encouraging the killings, even if none of them was by his hand.)
California outlawed the death penalty in 1972, and Charles Manson was sentenced instead to life in prison. He remained in California prisons for the rest of his life, having been denied parole multiple times. He died of natural causes in 2017.
Extra credit
Many biographies list Charles Manson's name at birth as "No Name Maddox," but a copy of his birth certificate shows he was given the name Charles Milles Manson several days after his birth… Charles Manson married the former Rosalie Willis, a waitress, in 1955. They had one son, Charles Jr., and were divorced in 1958… Vincent Bugliosi, the district attorney who prosecuted Manson, wrote a best-selling book about the case titled Helter Skelter… Charles Manson was fascinated with The Beatles and used the title of their song "Helter Skelter" as a name for his expected apocalypse… Charles Manson was played by Steve Railsback in the 1976 film Helter Skelter and by Jeremy Davies in the 2004 TV movie of the same name… One of Charles Manson's followers, Lynette "Squeaky" Fromme, tried and failed to shoot President Gerald Ford with a .45 caliber pistol in Sacramento, California in 1975. She was convicted of attempted assassination and jailed until her parole in 2009.
---
Related Biographies
Something in Common with Charles Manson
4 Good Links
His full obituary from the Los Angeles Times

Excellent recap and timeline of the whole terrible story

Archived edition of an essay recapping the evidence and issues involved

Good detail from a site with a slightly unsavory fascination
Share this: