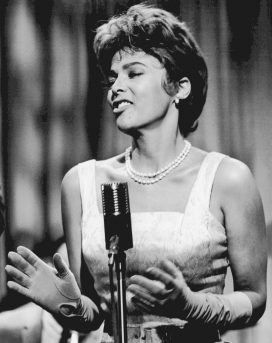 Facts about Dorothy
Dandridge
Best known as:
Star of the movie Carmen Jones
---
---
Dorothy Dandridge Biography
Dorothy Dandridge is the Oscar-nominated actress whose career as a leading lady was curtailed by racism and personal problems in the 1950s.
As teens, Dorothy and her sister Vivian were part of an act known as the Dandridge Sisters; they were good enough to reach New York's famous Cotton Club, and from there Dorothy worked her way into small movie parts in Hollywood. She married dancer Harold Nicholas of the Nicholas Brothers in 1942, but it wasn't until they divorced in 1949 that Dandridge's career really took off.
A charismatic and striking beauty, she began touring as a nightclub singer. Her big Hollywood break came when she starred as the sultry heroine of the 1954 film Carmen Jones, an adaptation of the Bizet opera Carmen. (She also began a stormy affair with the film's director, Otto Preminger.) The film was a hit, and Dorothy Dandridge became the first African-American woman ever nominated for an Academy Award as best actress. (Grace Kelly won that year, for The Country Girl.)
Carmen Jones proved to be the high point of her career; leading roles for black actresses were rare, and she refused to take the bit parts and lesser roles that were offered. Her film career sputtered, though she did star in the daring Island in the Sun (1957, with Dandridge sharing an interracial romance with John Justin), and Porgy and Bess (1959, with Dandridge and Sidney Poitier in the title roles).
Her marriage to restaurant owner Jack Denison (1959-1962) was troubled, and Dandridge declared bankruptcy in 1963. She began to revive her nightclub career, but also began drinking heavily and taking antidepressants. She died of an overdose of the antidepressant Tofranil in 1965.
Extra credit
Dorothy Dandridge was played by actress Halle Berry in the 1999 TV movie Introducing Dorothy Dandridge. By coincidence, Berry became the first African-American woman to win the Oscar as best actress, for her role in the 2001 film Monster's Ball… Dorothy Dandridge and Harold Nicholas had one daughter, Harolyn, born in 1943. She suffered from brain damage and was institutionalized for much of her life… It's unknown if Dorothy Dandridge's fatal overdose was a suicide or an accident; the coroner declared this to be "undetermined." ("Coroner to the Stars" Thomas Noguchi was a deputy medical examiner on her case.)
---
Related Biographies
Something in Common with Dorothy Dandridge
3 Good Links
1997 NY Times review (and first chapter) of a Dandridge biography

The Hairpin has a long, gossipy bio with clips and pics

FilmReference.com lists all her roles
Share this: