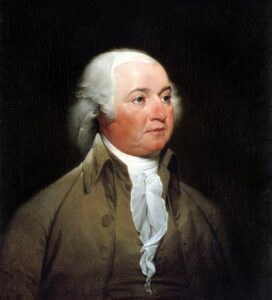 Best known as:
President of the United States, 1797-1801
---
---
John Adams Biography
John Adams followed George Washington as president of the United States, becoming the country's second chief executive. An early colonist agitator against the Stamp Act of 1765, John Adams helped draft the Declaration of Independence in 1776. He served as an all-purpose diplomat for the new republic during the Revolutionary War, and after the war, in 1785, he became the first American Minister to London. He served two terms as vice-president under Washington (1789-97), and beat Thomas Jefferson in 1796 to become president himself. He was respected but not popular, and served one term before losing to Jefferson in the elections of 1800. His son, John Quincy Adams, was president from 1825-29.
Extra credit
Adams was the first president to attend Harvard University and the first to have a son become president; his wife, Abigail Adams, is one of history's best-known First Ladies… By great coincidence, John Adams and Thomas Jefferson died in separate states on the same day, 4 July 1826 — the 50th anniversary of the signing of the Declaration of Independence… Historian David McCullough's biography, John Adams, was a bestseller in 2001.
---
Related Biographies
Something in Common with John Adams
2 Good Links
The quick version, along with bios of other Founding Fathers

Stats, links, cabinet members and more from the Internet Public Library
Share this: