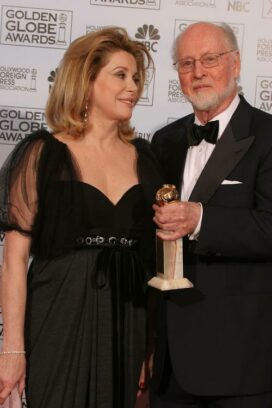 Facts about John
Williams
John Williams
is 91 years old
Best known as:
Composer of the themes from Jaws and Star Wars
---
---
John Williams Biography
John Williams is the biggest name in the history of movie music and, probably, the most widely-heard composer of the last one hundred years. Williams began composing for television in the late 1950s, eventually moving on to feature films later in the 1960s. In 1972 he won an Oscar for his orchestration of the music for Fiddler on the Roof, the first of many big-time awards in his career. In 1974 he began a long and fruitful collaboration with Steven Spielberg that would lead to some of his best-known work, including the Oscar-winning scores from Jaws (1975), E.T.: The Extra-Terrestrial (1982) and Schindler's List (1993). His other memorable scores come from the six Star Wars films of George Lucas, and from Spielberg's Raiders of the Lost Ark (1981) and its Indiana Jones sequels. In addition to his prolific output of movie compositions, Williams has been a guest conductor of orchestras all over the world, including a stint as the conductor of the Boston Pops Orchestra (1980-93), and the recipient of more than a dozen Grammy awards. His film work includes music for Superman (1978); Oliver Stone's Born on the Fourth of July (1989, starring Tom Cruise); Angela's Ashes (1999, with Emily Watson); and Harry Potter and the Sorcerer's Stone (2001, based on the book by J.K. Rowling).
Extra credit
His early TV career including composing music for Lost in Space, The Time Tunnel and Gilligan's Island.
---
Related Biographies
Something in Common with John Williams
3 Good Links
Lots of information about his work

The best place to go for serious fans -- news, background, discussion and more

Good career background and links to movie interviews
Share this: