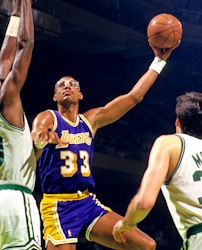 Facts about Kareem
Abdul-Jabbar
Kareem Abdul-Jabbar
is 75 years old
Best known as:
The sky-hooking center for the Los Angeles Lakers
---
Kareem Abdul-Jabbar Biography
Name at birth:
Ferdinand Lewis Alcindor, Jr.
A 7'2″ center with a soft touch and an unstoppable hook shot, Kareem Abdul-Jabbar won six NBA championships in his 20-year pro career. The last five championships came as he played with Magic Johnson on the popular Los Angeles Lakers teams of the 1980s.
Jabbar was born in New York as Lew Alcindor, and played prep school basketball at Power Memorial Academy, where he led the team on a 71-game winning streak. He then played for UCLA under coach John Wooden, winning three straight NCAA championships in 1967, '68 and '69.
He was the #1 pick of the 1969 NBA draft, going to the Milwaukee Bucks, and led the Bucks to the NBA championship in 1971; that same year he changed his legal name to Kareem Abdul-Jabbar, having converted from Catholicism to Islam. Unhappy in Milwaukee, he was traded to Los Angeles in 1975, where he played until retiring after the 1988-89 season.
Abdul-Jabbar was especially known for his "sky hook," a close-in over-the-head toss that was nearly impossible for shorter players to defend. With the Lakers he won championships in 1980, '82, '85, '87, and '88; he was also named the NBA's MVP in 1971, '72, '74, '76, '77, and '80. He scored 38,387 points during his career, a total which remains the NBA record.
Extra credit
Abdul-Jabbar weighed 267 pounds during his playing days, according to NBA.com… He was an only child… He was inducted into the Basketball Hall of Fame in 1995 and the UCLA Athletic Hall of Fame in 1984… Jabbar played only three seasons at UCLA (1966-69) because in those years, freshmen could not play on the varsity team. His season records were 30-0, 29-1 and 29-1. He was named the Most Outstanding Player of the NCAA's Final Four each year. He's the only player to win that award three times… He was a contestant on Celebrity Jeopardy! on 15 October 2009… Abdul-Jabbar is a well-known jazz fan. On his website he lists Miles Davis and John Coltrane among his musical heroes.
---
Related Biographies
Something in Common with Kareem Abdul-Jabbar
3 Good Links
Nice crisp bio from ESPN's SportsCentury series

His thoughts on jazz artists, with links to his main blog

2009 report from The LA Times
Share this: