Favorite Jeremy Lin question so far: will his NBA success irritate the 'tiger moms' who want their kids to study to be doctors?
Lin's Taiwanese immigrant dad, Gie-Ming, is a computer engineer who fell in love with basketball after coming to the U.S. for college, but was discouraged in his obsession by his parents — who saw the game as an abominable distraction to young Gie-Ming's studies.

Upon having sons of his own, the elder Lin was determined not to squelch their hoop dreams, if they had any. So he played with his boys all the time, and encouraged Jeremy and his two brothers to emulate the moves they saw on their father's extensive collection of NBA games on tape — signature moves from the likes of Dr. J, Moses Malone, Kareem Abdul-Jabbar, and, most of all, Michael Jordan.
The reporter's own tiger mom gets the last laugh:
"I think the lesson of Jeremy Lin is, 'Go to Harvard first.'"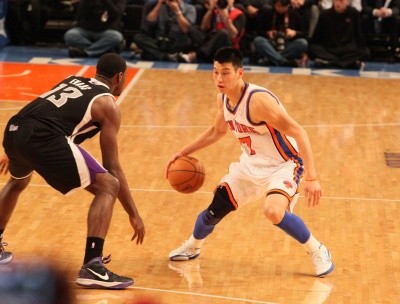 Meanwhile, Lin led the Knicks to their
seventh straight win
Wednesday night, a 100-85 laugher over the Sacramento Kings. Lin had a career-high 13 assists.