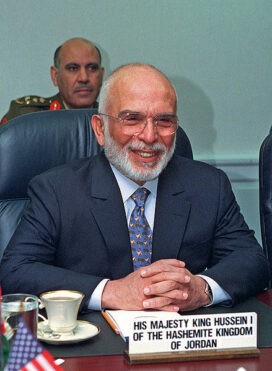 Best known as:
The ruler of Jordan from 1953-1999
---
---
King Hussein I Biography
Said to be a direct descendant of the prophet Muhammad, King Hussein I was the longtime ruler of the nation of Jordan. Schooled in Egypt and at the British Royal Military Academy at Sandhurst, the 18-year-old Hussein took the throne in 1953 following the death of his grandfather, King Abdullah. After some difficult years early in his reign, Hussein became known as a moderating force in the Middle East, with strong ties to many Arab leaders and to western nations. In 1998-99, the king spent six months in the U.S. being treated for non-Hodgkin's lymphoma; he succumbed to the disease in February of 1999, leaving his eldest son Abdullah II as his successor.
Extra credit
King Hussein was an amateur ("ham") radio buff; his call sign was JY1.
---
Related Biographies
Something in Common with King Hussein I
4 Good Links
PBS provides great background, interviews and audio files

Handsome official site; fine bio and photos

Plenty of historical background from a big site on royalty

CNN recaps his life; good extra links, too
Share this: