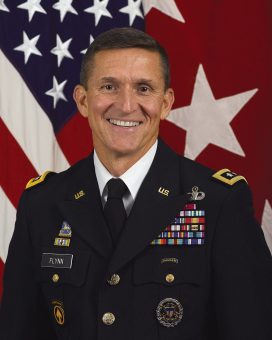 Facts about Michael
Flynn
Michael Flynn
is 64 years old
Best known as:
The former National Security Advisor who pled guilty to a felony in 2017
---
Michael Flynn Biography
Michael Flynn is the former U.S. National Security Advisor who in 2o17 pled guilty to one felony count of lying to the FBI about contacts he had with members of the Russian government in the months after Donald Trump was elected president.
Michael Flynn was a career Army man: He started out in ROTC at the University of Rhode Island, from which he graduated in 1981, and was quickly commissioned a second lieutenant in Army intelligence. Over the next 20 years he worked his way up the ladder in postings from Hawaii to Afghanistan; during the early 2000s he held leading military intelligence posts in Afghanistan and Iraq, including Director of Intelligence for the United States Central Command (2007-08).
Promoted to Lieutenant General in 2011, Flynn was then nominated by President Barack Obama to become director of the Defense Intelligence Agency — America's highest-ranking military intelligence officer. He was confirmed in 2012 and resigned from the job (and from the U.S. Army) two years later, in 2014, amid rumors of clashes with his subordinates and with the Obama administration.
After stepping down he created the Flynn Intel Group, a consulting firm that worked for a variety of international companies. He also served on the board of firms including Patriot Capital and Drone Aviation.
In 2016, Michael Flynn became a key national security advisor to Republican presidential candidate Donald Trump. Trump considered him as a potential vice presidential candidate (even though Flynn was a registered Democrat) and at the Republican National Convention, Flynn gave a fiery attack on Democratic nominee Hillary Clinton in which he led the crowd in chants of "Lock her up! Lock her up!" (He also famously said, "If I did a tenth of what she did, I'd be in jail today.")
After Trump was elected president, he named Flynn to the post of National Security Advisor. Flynn lasted only a month in the job: he resigned on February 13, 2017 after it was revealed that he had talked with Sergey Kislyak, the Russian ambassador to the U.S., in December of 2016, then misled other White House officials (including Vice President Mike Pence) about the contact.
Flynn came under investigation by special counsel Robert Mueller, who had been appointed by the Justice Department to look into Russian involvement in the 2016 elections. In November of 2017, Flynn pled guilty to one count of lying to the FBI about his contacts. The plea was widely viewed to be a sign that he was cooperating with the Mueller investigation in order to avoid more serious charges.
Extra credit
Michael Flynn married the former Lori Andrade in 1981; they met in high school in Rhode Island, where she was the "daughter of a prominent Aquidneck Island Portuguese family," according to a 2017 profile of Flynn in The Providence Journal. They have two sons: Michael, Jr. and Matthew… Michael Flynn's exact birthdate is, for some reason, not publicly known. Most sources list his date of birth as simply December, 1958.
---
Related Biographies
Something in Common with Michael Flynn
4 Good Links
Bloggers cover his legal woes in careful (and fascinating) detail

Terrific three-part biography of Flynn from The Providence Journal in 2017

2017 backgrounder from The Washington Post

The full text of his surprise guilty plea in 2017
Share this: