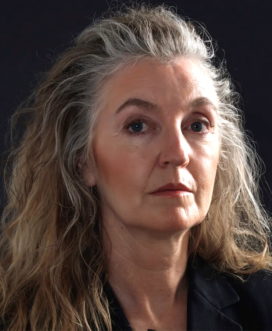 Facts about Rebecca
Solnit
Rebecca Solnit
is 62 years old
Best known as:
The author of 'The Faraway Nearby' and 'Men Explain Things to Me'
---
---
Rebecca Solnit Biography
Journalist Rebecca Solnit began her writing career in the late 1980s, but it was her 2014 essay collection, Men Explain Things to Me, that gained her an audience beyond alert readers of periodicals.
That book is credited with inspiring the term "mansplaining."
Solnit grew up mostly in central California and left high school early to pursue her own education. She graduated from San Francisco State (which included studying abroad in Paris), then earned a graduate degree in journalism from the University of California at Berkeley (1984).
A stint working at the San Francisco Museum of Modern Art led to a writing job, and Solnit's been at it ever since.
She's published more than 20 non-fiction books, written dozens of essays and won numerous awards, including a Guggenheim Fellowship and NEA Fellowships.
Solnit has been a regular contributor to Harper's Magazine, The Guardian and many other periodicals, and her book The Faraway Nearby was nominated for a National Book Award in 2013.
A feminist and environmental activist, Solnit's other books include Wanderlust: A History of Walking (2001), River of Shadows: Eadweard Muybridge and the Technological Wild West (2004), Call Them By Their True Names: American Crises (2018) and the children's book, Cinderella Liberator (2019).
---
Related Biographies
Something in Common with Rebecca Solnit
4 Good Links
Official site, with bio and interviews

Archived essays on current events

Yes, actress Watson chats with Solnit in 2019

2020 review of Solnit's memoir, from The New Yorker
Share this: