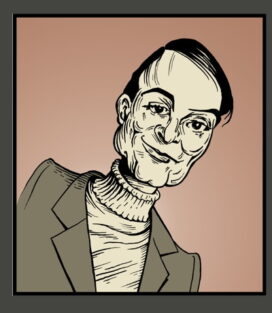 Facts about Roy
Lichtenstein
Best known as:
The Pop Art master who did the comic-style Whaam!
---
Roy Lichtenstein Biography
Roy Lichtenstein was an American artist closely associated with the Pop Art movement of the 1960s, thanks to cartoon-inspired ironic works such as Whaam! and Drowning Girl ("I Don't Care! I'd Rather Sink Than Call Brad For Help!"). He grew up in Manhattan and studied art at Ohio State University, starting in 1940. Lichtenstein was drafted into the Army in 1943 and served in an engineer batallion, finishing up World War II in Europe. He was discharged in 1946 and returned to the U.S., where he finished his degrees in art at Ohio State (BFA, 1946 and MFA, 1951). During the mid-1950s he lived in Cleveland, but traveled often to New York, where he had his first one-man show in 1951. Lichtenstein moved to New York in 1957 and taught college classes while exhibiting mostly Expressionist-influenced paintings. By 1961 he'd begun painting tongue-in-cheek imitations of advertising art and panels from war and romance comics. Lichtenstein duplicated the look of Benday dots (a printing technique commonly found in commerical art and things like "Bazooka Joe" bubble gum comics), thumbing his nose at the individualistic brush techniques of Expressionism. His work was a hit — wry, satirical and just a little controversial — and by 1968 Lichtenstein had been featured in U.S. magazines and given his own show in London at the Tate, the first time that museum displayed the work of a living artist. Roy Lichtenstein created a line of tableware for the Durable Dish Company in the late 1960s, and in the '70s and '80s did sculptures and murals for public and private installations, as well as painting geometrical interpretations of cubist and surrealist works. One of the best known and most influential of the artists to emerge from Pop Art, Lichtenstein's works have soared in value since his 1997 death; his comic-style Sleeping Girl (1964) sold for more than $44 million in 2012.
---
Something in Common with Roy Lichtenstein
4 Good Links
NYT obituary from 1997

Final interview from the Lichtenstein Foundation

Original comic inspirations next to Roy's compositions

Career background and a good selection of works
Share this: