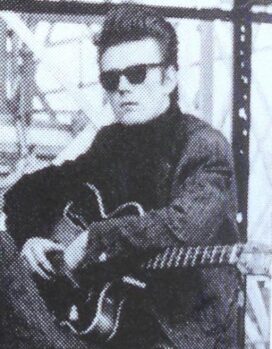 Facts about Stuart
Sutcliffe
Best known as:
The bassist who left The Beatles just before the band became famous
---
---
Stuart Sutcliffe Biography
Stuart Sutcliffe played bass for The Beatles in 1960-61, just before the group turned into the most famous band in the history of rock and roll. Stuart Sutcliffe was born in Scotland; his father was in the Merchant Navy and Stuart was raised in Liverpool, England after his family moved there when he was three. He was 17 and attending the Liverpool College of Art when he met John Lennon, who talked him into playing bass for his band. Sutcliffe joined the group in 1960, the year the lads settled on the name of The Beatles. (Sutcliffe and Lennon are said to have thought up the name Silver Beetles as an homage to Buddy Holly's band The Crickets. The name was then shortened to simply The Beatles.) When The Beatles played their famous dates in Hamburg in late 1960, Sutcliffe was part of the five-man lineup: Lennon, Paul McCartney, George Harrison, Sutcliffe on bass and Pete Best on drums. Young but handsome, Sutcliffe stood out in his sunglasses and tight pants. While in Hamburg, he fell in love with a local art student and photographer, Astrid Kirchherr. When the rest of the Beatles returned to Liverpool at year's end, Sutcliffe stayed behind, and in July of 1961 he quit the band for good and accepted a scholarship from the Hamburg Art School. There he studied modern art, especially Abstract Expressionism. However, he began to suffer headaches that year, and in 1962 he died suddenly in Hamburg of what was determined to be a brain aneurysm. Along with Pete Best, who was fired from the band in 1962, Stuart Sutcliffe remains a prominent footnote in Beatles history, and (along with Best and many others) he is sometimes called "the fifth Beatle."
Extra credit
His official site calls Stuart Sutcliffe "an artist, poet and writer first – and a musician second"… During his time with The Beatles, Sutcliffe was known for singing "Love Me Tender," the tune made popular by Elvis Presley… Legend has it that Sutcliffe had a habit of playing with his back to the audience, but his sister Pauline said in a 2012 interview that the story wasn't true… Stuart Sutcliff's head is on the cover of the Beatles' album Sgt. Pepper's Lonely Hearts Club Band: he's at the very left end of the third row from the top, just below the head of painter Aubrey Beardsley.
---
Something in Common with Stuart Sutcliffe
4 Good Links
From his estate, with notes on his art and his friendships

Funny but useful list of the many people who've been given the title

Good backgrounder on Sutcliffe from a massive fan site for the band

2012 article about his artwork, from The St. Helens Star
Share this: