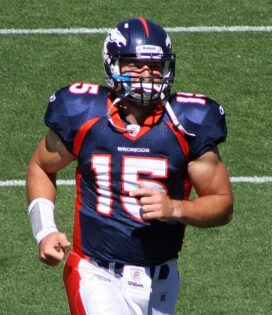 Tim Tebow
is 35 years old
Best known as:
The devoutly Christian quarterback for the Denver Broncos
---
Tim Tebow Biography
Name at birth:
Timothy Richard Tebow
Tim Tebow is the NFL quarterback whose dramatic victories and devout Christianity spawned "Tebow-mania" among many American football fans. Tim Tebow was born in the Philippines, where he parents were Christian missionaries. When he was three the family moved to Florida. Tebow was home-schooled by his mother but allowed to play football for Nease High in Ponte Vedra Beach, where he was a standout quarterback: in his senior year the school won the state championship and Tebow was named Florida's Mr. Football. He went on to play quarterback at the University of Florida and was again a success: he was the first sophomore ever to win the Heisman Trophy (in 2007) and led Florida to BCS Championships in 2007 and 2009. He remained a devout Christian, spending parts of his summers on missions; his good-guy reputation, combined with his muscular good looks, made him a national celebrity. Still, he had a reputation as a great running quarterback who didn't really have an NFL-quality arm, so it was a surprise when the Denver Broncos took Tim Tebow in the first round of the 2010 draft. He played sparingly that year, but in 2011 he took over as starter after the Broncos had lurched to a 1-4 start. Tebow promptly began "winning ugly," often throwing poorly but still leading the team to last-minute comeback wins and a 4-1 record in his first five starts. His habit of kneeling to pray after scoring led to an online photo fad called "Tebowing" — ordinary people kneeling Tebow-style in everyday situations. He published a memoir, Through My Eyes, in 2011.
Extra credit

Tim Tebow is 6'3″ tall and has a playing weight of 236 pounds, according to NFL.com… He wears uniform #15 for the Broncos… Tim Tebow graduated from the University of Florida in December of 2009. His degree was in Family, Youth and Community Services… In college he had the habit of putting Bible verse numbers on his eye black; this helped lead to a 2010 NCAA ban on players putting any sort of message on their eye black, informally called the "Tebow Rule."
---
Something in Common with Tim Tebow
4 Good Links
Stats, a news feed, and more about Tebow

Full coverage of Tebow and his team from the local paper

Funny home to the sincerest form of flattery

Official site of his family's missionary work
Share this: