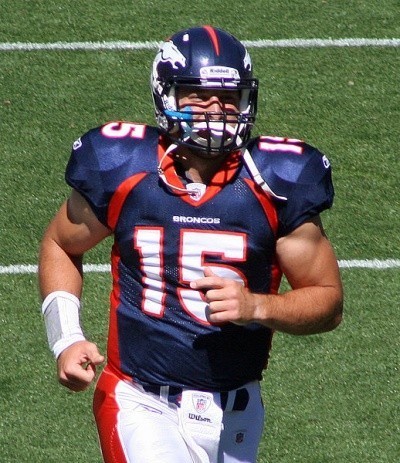 Tim Tebow can now attend services at world's largest cathedral, St. John the Divine. He's been traded to the New York Jets.
[Update: Hold on, maybe not!]
[Update 2: It's back on!]
Let the awkward comparisons to old-school Jet fave Joe Namath begin.
With Namath, the popularity was about sex appeal. He helped bring the female audience to the NFL. With Tebow, it's about his strong Christian convictions, All-American persona — and ability to pull off remarkable comeback victories despite pronounced flaws as a passer.
Will "Broadway 'Bow" be the new "Broadway Joe"? We'll see.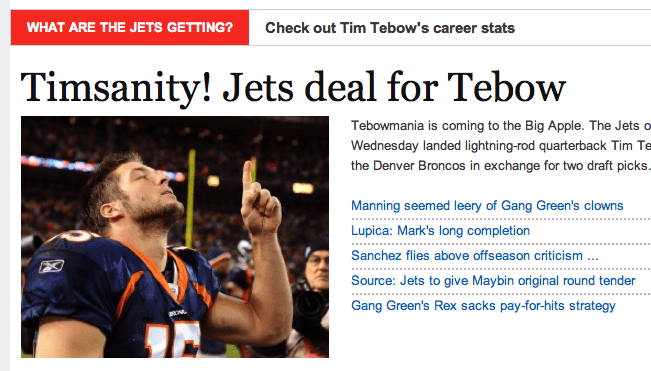 The New York papers are already going nuts, of course.
The Jets can say anything they want to now about how much they love Mark Sanchez and they can throw more money at him if they want to, but they might as well declare the quarterback's job with the New York Jets wide open right now. You don't bring in a rock star and tell him to go wait in the wings. Or sing back-up.
The Jets gave up fourth- and sixth-round picks, and the Denver Broncos sent Tebow and a seventh-round pick to the Jets. The Broncos, you may recall, signed
Peyton Manning
to be their super-quarterback yesterday.
Millionaires
on the move
! That's why the NFL is so much fun!
See our Tim Tebow biography »