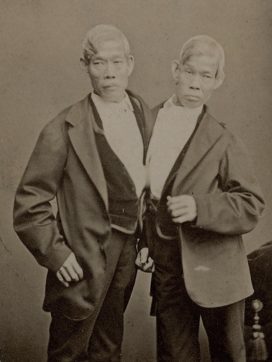 Facts about Chang and Eng
Bunker
Best known as:
The world's most famous conjoined twins
---
Chang and Eng Bunker Biography
Chang and Eng Bunker were conjoined twins from Siam: two brothers joined from birth near the breastbone by a five-inch ligament. Their fame in the 1800s led to the popularity of the term "Siamese twins."
As children, Chang and Eng Bunker spent some time in the court of the king of Siam, then were taken to the United States as a circus exhibition.
Their stage act and unique physical makeup made them famous, and they toured the world. Eventually, with the help of promoter P. T. Barnum, they gained control of their career and earned a good living as entertainers.
Eventually the Bunkers settled in North Carolina, where they married sisters and lived as farmers.
Eng and his wife had eleven children, and Chang and his wife had ten. The brothers died on January 17, 1874: Chang died first, followed by Eng three hours later.
Extra credit
A great-great-grandaughter of Chang Bunker, Caroline Adelaide Shaw, won the Pulitzer Prize in Music in 2013, the youngest-ever recipient of that award… Although the term "Siamese Twins" comes from Chang and Eng Bunker, in modern medicine the term "conjoined twins" is used instead… One story has it that the brothers adopted the surname Bunker in honor of the famous Revolutionary War battle of Bunker Hill; according to an account by Jesse Franklin Graves, a contemporary of the Bunker twins, they took their name in 1840 from Fred, William and Barthuel Bunker, friends they had made while living in New York City… Mount Airy, the North Carolina town near which the Bunkers lived much of their lives, is also the birthplace of actor Andy Griffith and singer Donna Fargo.
---
Related Biographies
4 Good Links
Nice detailed history from Blue Ridge Country magazine

Atlas Obscura tells the story of their final days

Papers and photos from the University of North Carolina

A photo of their home
Share this: