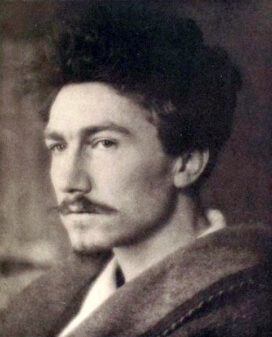 Best known as:
The early-20th-century poet who wrote The Cantos
---
---
Ezra Pound Biography
Born in Idaho and raised in Pennsylvania, Ezra Pound spent most of his life in Europe and became one of the 20th century's most influential — and controversial — English-language poets. After spending two years at the University of Pennsylvania and then getting a degree from Hamilton College in 1905, Ezra Pound worked briefly as a teacher before traveling to Venice and then to London, where he refined his aesthetic sensibilities and edited the anthology Des Imagistes (1914). Pound championed the likes of T. S. Eliot, William Carlos Williams and James Joyce and, influenced by Chinese and Japanese poetry, advocated free meter and a more economical use of words and images in poetic expression. He moved to Paris in 1920 and got acquainted with Gertrude Stein and her circle of friends (which included Ernest Hemingway and Pablo Picasso), then settled in Italy in 1924. Enamored with Benito Mussolini, Pound made anti-American radio broadcasts during World War II. He was arrested as a traitor in 1945 and initially confined in Pisa. He was then sent to the U.S., where he was deemed mentally unfit to stand trial for treason. Pound spent 12 years in a mental institution in Washington, D.C., then returned to Italy, where he died in 1972. His poetic works include Cathay (1915, based on the transliterations of sinologist Ernest Fenollosa), Hugh Selwyn Mauberley (1921) and his life's work, The Cantos (the first part of which was published in 1925).
---
Related Biographies
Something in Common with Ezra Pound
3 Good Links
Biographical profile and select poems

His life and selected works, plus some critical essays

Lengthy essay on the sounds -- a treat for scholars, challenging for others
Share this: