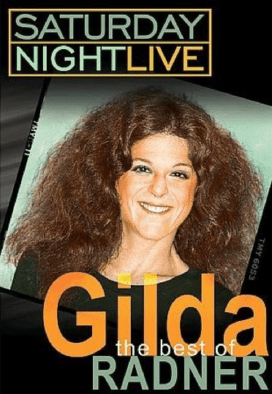 Best known as:
The early Saturday Night Live star who played Roseanne Roseannadanna
---
---
Gilda Radner Biography
Comedian Gilda Radner was one of the original cast members of the comedy show Saturday Night Live. She was one of the show's key stars from 1975-1980, creating characters like the goofy and over-talkative Roseanne Roseannadana and the crotchety and half-deaf news commentator Emily Litella. As did many other SNL members, Gilda Radner got her comedy start with the Second City comedy improv group. Radner later had a one-woman Broadway show — Gilda Radner, Live From New York — in 1979. Radner died of ovarian cancer in 1989, and her name continues to be associated with research and support groups for the disease. She published an autobiography, It's Always Something, in 1989.
Extra credit
Gilda Radner was played by actress Jami Gertz in the 2002 TV movie It's Always Something… Radner was married actor Gene Wilder in 1984; they had no children. They starred together in the 1986 comedy Haunted Honeymoon… Radner was married to guitarist and bandleader G.E. Smith from 1980-82.
---
Related Biography
Something in Common with Gilda Radner
4 Good Links
From the ever-thorough Internet Movie Database

A fan reminisces about Radner, with links to memorabilia and other tidbits

Huge compendium of general show information from a fan

USA Today feature on the 2002 biopic; see review link in the right column
Share this: