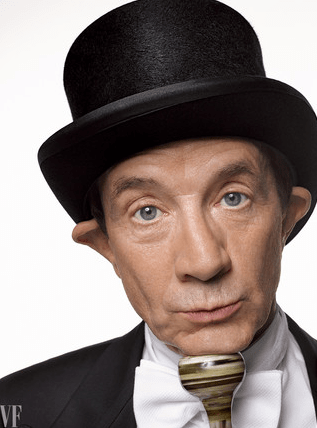 "In February of 1972, I made a little contract with myself. I was three months from graduating from McMaster University, in my hometown of Hamilton, Ontario. Originally, I'd been a pre-med student, but by junior year I'd switched to majoring in social work, in large part because it freed me up to be in plays with two friends I'd made at McMaster: Dave Thomas, who was my year, and Eugene Levy, who was a little older.

…I would give myself one year after graduation to try to get work as an actor. If, by May of '73, things were going reasonably well, I would renew my showbiz contract for another year; if they weren't, I would go to the registrar's office at McMaster and beg them to hold a place for me in grad school that fall."
Good stuff:
Martin Short
tells
Vanity Fair
how he started his career
as actor, song-and-dance man and off-kilter comedian. First he landed a TV commercial as a talking credit card; then he was chosen personally by
Stephen Schwartz
for the original Toronto cast of
Godspell
. Needless to say, he never made it back to McMaster.
Amazing how much comedy talent came out of one town in those days.