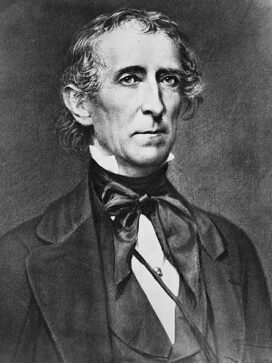 Best known as:
President of the United States, 1841-1845
---
---
John Tyler Biography
John Tyler was the 10th president of the United States. The child of an old Virginia family, he graduated from the College of William and Mary at age 17 (not an unusual age for that time) and went on to become a member of the U.S. House of Representatives (1816-21), governor of Virginia (1825-26), and a member of the U.S. Senate (1827-36). He was tapped by the Whigs to be the running mate of William Henry Harrison in 1840 — not so much for his policies, but to draw support from Virginia and the south. Just one month into his term, Harrison died and Tyler became president. Tyler's years in office were rocky, and by the end of his term, neither the Whigs nor the Democrats supported him. He chose not to run for re-election. He was succeeded by Democrat James K. Polk. At the time of his death in 1862, Tyler was a member of the Confederate Congress, in revolt against the United States during the Civil War.
Extra credit
First Lady Letitia Christian Tyler died in the White House in 1842. Two years later, at the age of 54, John Tyler married 24 year-old Julia Gardiner… Tyler had 15 children, the most fathered by any U.S. president. His last child was born in 1860, when Tyler was 70 years old… Harrison was called "Old Tippecanoe" for his victory in battle at Tippecanoe Creek in 1811; that led to the famous 1840 campaign slogan, "Tippecanoe and Tyler too!"
---
Related Biographies
Something in Common with John Tyler
3 Good Links
Fine entry to begin your Tyler education

Fast facts from the Internet Public Library

Tour Tyler's home in Charles City, Virginia
Share this: