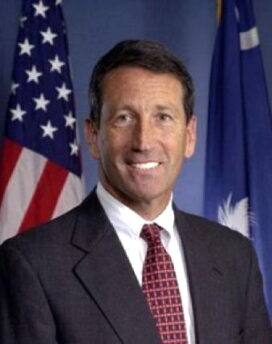 Mark Sanford
is 63 years old
Best known as:
The South Carolina governor who was caught with an Argentinian mistress
---
---
Mark Sanford Biography
Name at birth:
Marshall Clement Sanford, Jr.
Governor Mark Sanford's fame as a staunch opponent of wasteful government spending was eclipsed in June of 2009 by his brief disappearance for an extramarital tryst in Argentina. A native of Florida, Mark Sanford moved to South Carolina as a teenager. He earned degrees in business and worked in New York in finance and real estate during the 1980s, but returned to South Carolina in 1990. He founded his own real estate investment firm in 1992, and in 1994 turned to politics. A conservative Republican, Sanford won three terms in the House of Representatives (he did not run for a fourth term). Elected governor in 2002 and re-elected in 2006, he's known mostly for budget battles with his own party, and he has a knack for making headlines (including one stunt where he carried two live, defecating pigs into the State House, calling pig "Pork" and the other pig "Barrel"). During the presidential campaign of 2008 Sanford was mentioned as a possible running mate for Republican John McCain, and by 2009 he was making the news as the governor most visibly opposed to federal stimulus spending planned by President Barack Obama.
Sanford's "rising star" status took a tumble after his curious 2009 disappearance, a five-day drama of confused reports: His wife, Jenny, said he was writing and needed time alone from the family (they have four sons), but his staff said he was hiking the Appalachian Trail. Upon Sanford's return he first explained that he was alone in Argentina, but later admitted he had gone to see a "dear, dear friend" with whom he'd been having a love affair. Sanford's lover was later revealed to be Maria Belen Chapur, a divorced 41-year-old Argentinian and former TV producer he called his "soul mate." Sanford resigned as head of the Republican Governors Association, but did not resign from office. Although he survived an impeachment attempt in late 2009, his wife filed for divorce and he entered 2010 facing dozens of ethics charges. Yet somehow he made an impressive political comeback in 2013, winning a special election on May 7th to regain his old Congressional seat in South Carolina's 1st District. He defeated Democrat Elizabeth Colbert Busch (the sister of TV comedian Stephen Colbert), winning 54% of the vote. After his win he said, "I am an imperfect man, saved by God's grace, and one who has a conviction of the importance of doing something about spending in Washington, D.C."
Extra credit
Mark Sanford joined the Air Force Reserves in 2002 and was in training off and on for three years, but was never deployed… "Hiking the Appalachian trail" has become shorthand for sexual hijinks and other political scandals… Mark Sanford was married to the former Jenny Sullivan from 1989 until their divorce in 2010. They have four sons: Marshall, Landon, Bolton and Blake… He became engaged to his former mistress, Maria Belen Chapur, in 2012… Sanford was blocked from running for governor again in 2010, due to South Carolina's term limits.
---
Related Biographies
Something in Common with Mark Sanford
2 Good Links
The election news from 2013, with Sanford comparing himself to Lazarus

A 2012 report from USA Today
Share this: