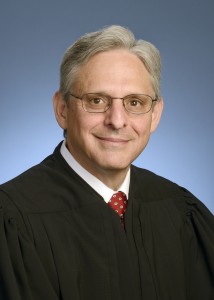 Facts about Merrick
Garland
Merrick Garland
is 70 years old
Best known as:
The judge unsuccessfully nominated to the U.S. Supreme Court in 2016
---
Merrick Garland Biography
Merrick Garland is the longtime U.S. Court of Appeals judge whose nomination to the U.S. Supreme Court by President Barack Obama  was stalled by Senate Republicans until time expired ten months later. In 2021, President-elect Joe Biden nominated him to be U.S. Attorney General.
Merrick Garland grew up in Illinois and attended Harvard, where he earned B.A. in social studies in 1974 and then a law degree in 1977. He served as a special assistant to Attorney General Benjamin Civiletti during the last two years of the Jimmy Carter administration (1979-81), then became a partner at the law firm of Arnold & Porter.
In 1989 he took a job as an assistant United States attorney in the District of Columbia in 1989. In that role he supervised the prosecution of Timothy McVeigh for the Oklahoma City bombings of 1995, and also supervised the notorious 'Unabomber' case of Ted Kaczynski. President Bill Clinton appointed Garland to the U.S. Court of Appeals for the District of Columbia Circuit in 1997; he became that court's Chief Judge in 2013.
As a justice he has been known as both smart and centrist; The New York Times noted that "While he is known as a centrist or a moderate liberal in most areas, his rulings suggest that he could be more of a center-right justice in matters of criminal law."
President Obama nominated Merrick Garland for the Supreme Court in March of 2016, to fill the empty seat left by the death of Antonin Scalia on February 13, 2016. Although President Obama had nearly a year left in his term, Senate Majority Leader Mitch McConnell refused to give Garland hearings or a vote.
This highly unusual political power play was successful: Garland was blocked from joining the Supreme Court and the seat was left open to be filled by a Republican, Donald Trump, who nominated Neil Gorsuch in January of 2017.
Garland's nomination as Attorney General will have to be approved by the U.S. Senate after Joe Biden takes office on January 20, 2021.
Extra credit
As Attorney General, Merrick Garland would succeed Jeffrey Rosen, who became acting Attorney General on December 24, 2020. Rosen was appointed by Donald Trump to replace Bill Barr, who served in the post from 2019 until his resignation on December 23, 2020.
---
Related Biographies
Something in Common with Merrick Garland
4 Good Links
2021 report from The Guardian

His brief basic biography from the court

2010 profile from The New York Times

Good place to find news on Garland and all things SCOTUS
Share this: