According to this press release from Bonhams Art Auctioneers, a painting entitled The Blind Sea Captain will be up for sale in March and could fetch $97,000 or so.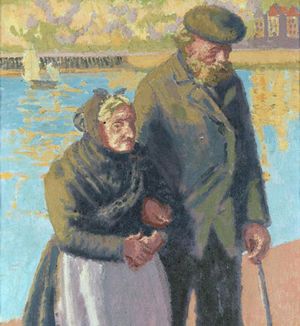 The painting is by English artist Walter Richard Sickert (1860-1942), one of the painters of what was known as the Camden Group. Sickert was one of England's top painters in the first part of the 20th century, a one-time apprentice to James Whistler and a friend to Edgar Degas.
And, according to ultra-rich mystery novelist Patricia Cornwell, Walter Sickert was Jack the Ripper.
To read more about Walter Sickert and his controversial "Camden Town Nudes," go here.
For more on Patricia Cornwell's (not well-received) theory that Walter Sickert was Jack the Ripper, try this review of the details.
There are also good details in this 2001 story about Cornwell's elaborate attempts to prove her theory, and in this briefing from TruTV.