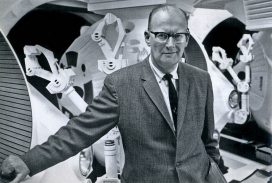 Facts about Arthur
Clarke
Best known as:
The author of 2001: A Space Odyssey
---
---
Arthur C. Clarke Biography
Sci-fi superstar Arthur C. Clarke wrote the 1953 novel Childhood's End, which went on to become one of most popular and acclaimed science fiction novels of all time. Yet he is still better known for his 1968 novel 2001: A Space Odyssey (based on his own 1951 short story The Sentinel). Clarke worked with director Stanley Kubrick on the screenplay for the 1968 film, which is now regarded as a landmark cinematic classic.
Arthur C. Clarke published hundreds of other essays and short stories and over 75 novels, including the sequels 2010: Odyssey Two (1982), 2061: Odyssey Three (1988), 3001: The Final Odyssey (1997).
Along with his literary work, he is credited with coming up with the idea for a real-life space success: geostationary communications satellites.
After 1956 he lived in Sri Lanka, and he died there in 2008. Arthur Clarke was knighted by Queen Elizabeth II in 1998. Arthur C. Clarke – The Authorized Biography was published by Neil McAleer in 1992.
Extra credit
Arthur C. Clarke's middle name is Charles… He was nominated for a screenwriting Oscar in 1969 for 2001: A Space Odyssey, but did not win; the winner that year was Mel Brooks for the comedy The Producers… Among Arthur C. Clarke's literary creations is the fictional supercomputer Hal 9000.
---
Related Biographies
Something in Common with Arthur C. Clarke
3 Good Links
His full 2008 obituary from the BBC

With a nice bio and bibliography for Clarke

Fan page for the film, with photos and sounds and links
Share this: