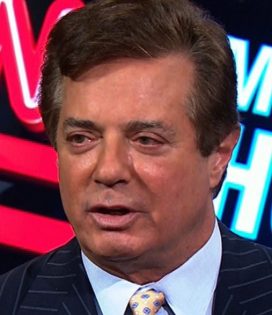 Facts about Paul
Manafort
Paul Manafort
is 76 years old
Best known as:
Donald Trump's 2016 campaign manager who was indicted in 2017
---
Paul Manafort Biography
Paul Manafort is the former chair of Donald Trump's presidential campaign who was indicted for conspiracy, money laundering and other federal charges in 2017.
Paul Manafort was born in Connecticut and attended Georgetown University, earning a B.S. in Business in 1971 and then a law degree in 1974. He spent a few years practicing law with the Washington, D.C. firm of Vorys, Sater, Seymour and Pease, but by then he'd already plunged into politics, working on President Gerald Ford's losing re-election campaign in 1976 and serving as the southern coordinator for Ronald Reagan's winning presidential campaign in 1980.
In 1980 Manafort formed the lobbying firm of Black, Manafort & Stone along with Charles R. Black Jr. and Roger J. Stone. Over the next 15 years they made big money lobbying for a string of shady characters, including Philippine president Ferdinand Marcos, Angolan rebel Jonas Savimbi, and Zaire dictator Mobutu Sese Seko. In 1996 he formed a new firm, Davis, Manafort and Freedman, with Richard H. Davis and Matthew C. Freedman. They continued to lobby and run political campaigns for a panoply of global characters, most notably the Ukraine's Viktor Yanukovych, an ally of Russian president Vladimir Putin.
Manafort formally joined the presidential campaign of Donald Trump in March of 2016. Three months later, in June, Trump made Manafort his campaign manager. Manafort resigned in August of 2016 after his complex and deep web of ties to Russia and the Ukraine (including millions of dollars in potentially illegal off-the-books payments) were made public by The New York Times and other papers.
When Robert Mueller was named a special counsel by the Justice Department in May of 2017 to investigate Russian interference in the 2016 U.S. elections, Manafort was widely assumed to be a prime subject for investigation. That proved true on October 30, 2017, when Manafort surrendered to the FBI after being indicted by a federal grand jury for engaging in a conspiracy against the United States, money laundering, acting as an unregistered agent of a foreign principal, making false statements, and other federal charges.
---
Related Biographies
Something in Common with Paul Manafort