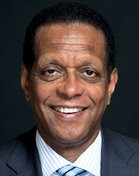 "When the most powerful country ever to inhabit the earth finds it so easy to plunge into the horror of warfare but almost impossible to find adequate work for its people or to properly educate its young, it has lost its way entirely."
Bob Herbert, godblesshim, goes out full blast in his last column for The New York Times.
Herbert is 66. He has been writing the column since 1993. He started his career in 1970 as a reporter at
The Newark Star-Ledger
, then moved to
The New York Daily News
as a general assignment reporter in 1976. He also wrote a column for
The Daily News
from 1985 to 1993, when he moved over to
The Times
. The paper
has not named a replacement
.
Herbert says he's "off to write a book and expand my efforts on behalf of working people, the poor and others who are struggling in our society." He'll be missed.
(Photo of Bob Herbert: Damon Winter / The NY Times)