Oh, wow. Dan Peek, one of the three founding members of the 1970s band America, has died. His wife found him dead in bed at their home in Missouri on Sunday.
His
official site
says simply, "Dan went to heaven on July 24 2011."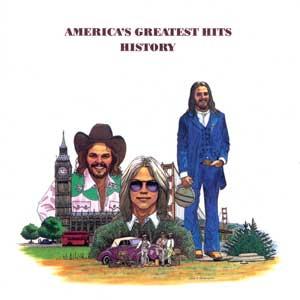 That's Dan Peek in the cowboy hat, with Gerry Beckley and Dewey Bunnell, on the cover of their greatest hits album History. Everyone seemed to own that album in 1975, along with The Eagles Greatest Hits, The Carpenters Greatest Hits, Bread's Greatest Hits, etc, etc.
(It never occurred to me at the time to wonder why Big Ben was on the album cover. It's because the three
met in England
, where their fathers were all stationed with the U.S. Air Force. I also didn't know until a few years ago that the album was
produced
by Sir
George Martin
, who was so vital to the success of
The Beatles
.)
Here's America in its heyday, with Peek playing the opening guitar hook of what is (for my money) their greatest hit: