Guitarist Doc Watson has died at age 89. He fell earlier this month and passed away after undergoing colon surgery in North Carolina.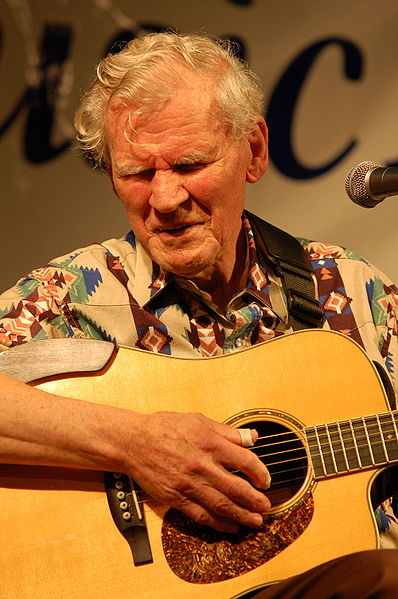 He was a legend among guitarists:
In a career that spanned seven decades, Mr. Watson influenced such diverse musicians as

Jerry Garcia

of the Grateful Dead,

Clarence White

of the Byrds, the innovative acoustic picker

Leo Kottke

and bluegrass multi­instrumentalist

Ricky Skaggs

.

"He is single-handedly responsible for the extraordinary increase in acoustic flat-picking and finger-picking guitar performance," the late Ralph Rinzler, an influential folklorist who first recorded Mr. Watson in the early 1960s, once wrote. "His flat-picking style has no precedent in earlier country music history."
Big words, but Watson backed them up. Modestly, of course. In a
2000 interview
he told how he got his first guitar:
"When I was about thirteen, my brother borrowed a guitar from one of our cousins. I was fooling with it one morning while dad was finishing his last cup of coffee before he went to work. He said, 'Son, if you learn to play a tune on that thing by the time I get back from work this evening, I'll go to town with you on Saturday and we'll find you a little guitar of your own.' What he didn't know is that a friend of mine, Paul Montgomery, had already taught me a few chords. I could play and sing 'When the Roses Bloom in Dixieland' when he got home that night (laughter). So, he had to keep his word."
Here's an nice video showing Doc Watson's humor and his pickin' talent.