Memorabilia from "Dr. Death." What will fetch top dollar?
Dr. Jack Kevorkian died last June, and on October 28th there will be a sale of selected items in Manhattan.
The Thanatron might be the most well known and historic relic of Kevorkian's long, illegal campaign to assist terminally ill patients in ending their own lives. The Thanatron is the simple machine he created that allowed a person to self-administer a dose of thiopental to put them in a coma, followed by a lethal dose of potassium chloride.
In addition to the Thanatron, there are personal papers belonging to Dr. Kevorkian and at least 13 paintings he did. You could also put in a bid on Dr. Kevorkian's nearly-iconic blue cardigan sweater.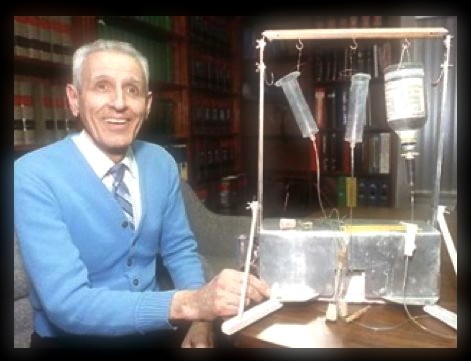 The auction is to be held at the New York Institute of Technology, and is being run by a California art dealer named David W. Streets. Go see his site. Not because you'll learn more about Dr. Kevorkian. Go because you'll see a great photo slideshow of David Streets posing with a variety of celebrities. There are many, including Alec Baldwin, Florence Henderson and Lou Ferrigno. There are no photos of Mr. Streets with Jack Kevorkian, sad to say, but here are a few samples from his site: