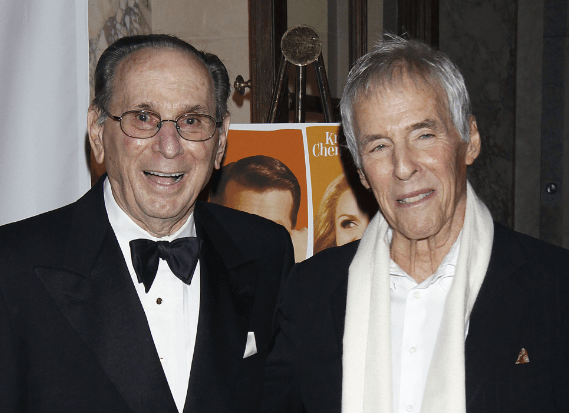 Hal David (left) with Burt Bacharach in 2010. (Photo: Joseph Marzullo/WENN)
Lyricist Hal David has died at age 91. He passed away at Cedars-Sinai Hospital (yes, the ER to the Stars) of complications from a stroke.
Hal David was the lyric-writing partner of Burt Bacharach. The pair never quite ruled pop music but they had hit after hit in a rare vein of light sophistication. ("We were really running parallel to rock 'n roll," is how David aptly put it.) The set list is long: Walk on By, Close to You, What The World Needs Now Is Love, Alfie and dozens more.
What blows any writer's mind about Hal David is how short he kept his words.  He rarely went to three or even two syllables, and that ain't easy. Dig the first lines of some of his big hits:
Do you know the way to San Jose?

I've been away so long, I may go wrong and lose my way.

Do you know the way to San Jose?

I'm going back to find some peace of mind in San Jose.
No word there even longer than five letters. Wow.
The look of love

Is in your eyes

A look your smile can't disguise

The look of love

Is saying so much more

Than just words could ever say

And what my heart has heard

Well it takes my breath away
Disguise has eight letters — that's getting crazy for Hal David. Note how he drops it right at the end of the line where he can make the most of its weight and impact. No wonder every singer draws that out: disgay-ay-ayes.
Now on to Walk On By:
If you see me walking down the street

And I start to cry each time we meet

Walk on by, walk on by

Make believe

That you don't see the tears

Just let me grieve

In private 'cause each time I see you

I break down and cry

And walk on by

And walk on by
It's possible that Hal David had to keep the words short because Burt Bacharach's tunes were so intricate and confounding. It made a good pairing, for sure.
What the world needs now

Is love, sweet love

It's the only thing that there's just too little of

What the world needs now

Is love, sweet love

No, not just for some but for everyone
Just a strong, clear voice. Sorry to see him go.