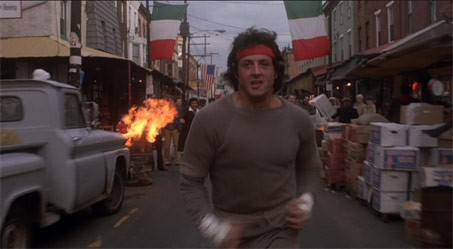 Dan McQuade got to wondering just how far Rocky Balboa ran in that iconic sequence from Rocky II. The route got him a little exasperated:
Sure, pass by the Italian Market when you're just a few feet away from it, then double all the way back from Kensington to run through it again. I figure Rocky exited at E. Gurney, took E. Sterner to Lehigh Avenue, which he took to Broad. Then it's a quick run down Broad to Washington to 10th to League to 9th Street, where Rocky is greeted by cheering fans—and a flaming barrel, obviously. Nothing is more South Philly than a flaming barrel.
Hee! McQuade's total for Rocky: 30.61 miles.
How far did Rocky go in his training run in Rocky II? »